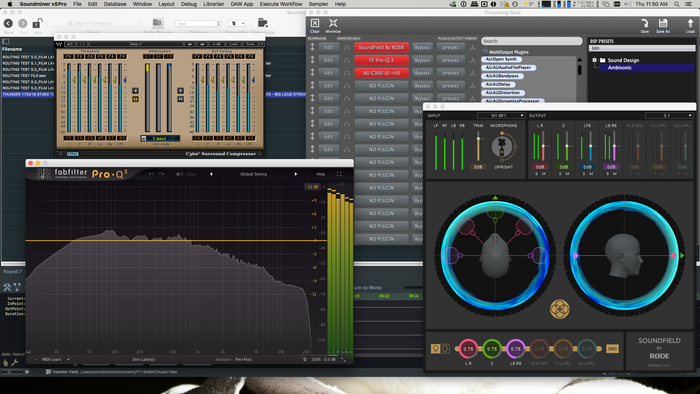 The general release is finally here and we took our time to make further improvements.
Search…Manipulate…Design & Make
V5Pro is now 64bit, a complete re-write. It's our biggest undertaking as yet. Here is just a short list of the key improvements.
64 bit application - new code, rewritten, meant to take advantage of new OS developments as well as things we've been germinating on.
AudioUnit DSP processing - building upon our original VSTRack, we've added support for AudioUnits. The new DSPRack features improved plugin search, presets, output format and output channel controls.
New search methods - new left panel Filter Search, chained search pills, Tag to Database function, all improve upon our industry leading search engine.
Speed Improvements(Scanning, waveform zooming, etc)

- 64

bit allows us to go in and optimize things making all these functions quicker and taking advantage of new hardware improvements.
Built in Radium sampler - This changes everything in sound design. Integrated interface that easily connects to any MIDI controller, allows up to 5 layers of sounds, each with their own array of filters, modulation, envelopes and plugin settings. Don't worry, tutorials exist but it won't take long before you are creating new sounds! (Not available when using ReWire)
Updated UI - we took the opportunity to improve, but not drastically change what has become a comfortable tool for many.
User Experience improvements, including custom database ordering, field ordering. Little things, but important things.
Assignable watch folders that scan items in the background. You can auto ingest new content now by simply setting a watch folder!
Cantar Mode scanning and operation - improvements for dialogue editors and importing from field recorders.
Cloud advancements - HTTP with a smart new improved proxy engine and an interface to allow to playback directly from an Amazon S3 cloud bucket.
And to help, we've created an online manual which we will improve and add to over time, making it a perfect go-to reference when stuck. Look for a ? mark in certain areas of the program to view that part of the manual.
There are some caveats all users should note:  First NO MORE SD2 files.  These files are finally dead so if you haven't moved over, you need to convert them using our Mirror feature to aif or wave. V5Pro uses a new database paradigm, so the new databases are different. It will require embedding with your previous version as the files will need to be rescanned under V5. 
Users who purchased NEW 4.5pro licenses(not upgraded) after October 2018 have been sent an email allowing them to upgrade for free.  If you don't receive it contact sales@soundminer.com with their order info.  
And for those worried about the transition, the license comes with a special version of 4.5pro that works off the V5Pro license to help you transition!
And for those wondering about a V5 Standard and a 64-bit version of the HD platform, work on that will begin now that V5Pro is largely complete.
*Users are also given access to a 4.5pro version to help in the transition(10.9 minimum requirement).
Upgrades from v4.5Pro are just $150 and available here
30 day trials of v5Pro are available.  ILOK USB key and account required.  V series products are Mac only.